The foundation of Janssen Jobs
The foundation for Janssen Jobs began in January 2005 when Roland Janssen registered with the Chamber of Commerce under the name 'Janssen Transport & Earthmoving'. This was a successful first step as more and more companies hired Roland and he started a temporary employment agency, which was officially registered in September 2006. In the following years his business grew. In 2009, the sole proprietorship was converted into Janssen uitzend- en handelsonderneming bv. To give shape to the commercial enterprise, a mini excavator was purchased for rental purposes (see rental).
Time for change
More and more collective bargaining agreements included that companies should only hire from certified agencies, so it was time for a change.
In May 2015, Peter Wolters, who had earned his spurs with eight years of experience in the agency world, was put in charge of the operational part of the employment agency. The name was changed, a new logo and its own website: Janssen Jobs was a fact.
In mid-2015, our efforts were honored with the attainment of the NEN 4400-1 standard and the associated registration with the Labor Standards Foundation. The semi-annual audits were changed to annual audits in 2019 because no deviations were found for two consecutive years.
In 2016, we obtained the VCU certificate (Safety, Health and Environment Certificate for Temporary Employment Agencies), in addition, we became a recognized learning company for training as a mini excavator operator.
In January 2022 Janssen Jobs started the new building of the company premises at Windmolenbosweg 16 in Haelen, this became necessary due to our growth. Munco construction took care of the structural work, the rest was all done by ourselves. Over a year later it was a fact; three separate production halls and an office. Now nothing stands in our way of further growth. On February 1st, 2023 we moved into our office and working from home became a thing of the past and we can receive our customers in our magnificent office building of which we are immensely proud.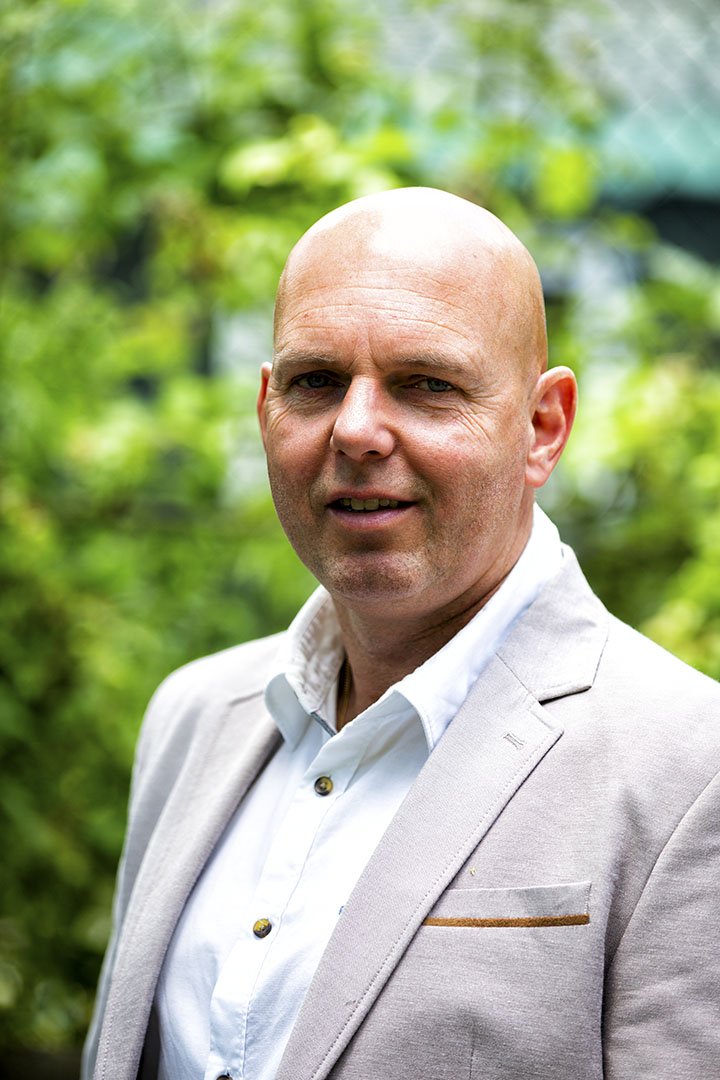 Roland Janssen.
Roland grew up in Horn and still lives here.
Together with his wife Sandra, he has two children, a son and a daughter.
Besides Roland's favorite hobbies work and handball, he can also regularly be found in the gym.
In 2005 he decided to start a temporary employment agency in addition to his activities in earth moving.
Roland remained and is still active as a tipper driver, loader operator or sweeper pilot or in short, basically anywhere he is needed.
Despite the growth of his employment agency, he is rarely to be found in the "office", because sitting behind a computer is not his thing. Invading customers in earthmoving remains Roland's passion and he lives for it. Roland's motto is " Just act normal and you'll be crazy enough" and that reflects well on him as a person.
Peter Wolters
Born and raised in Horn, happily married to Carin and father of a son.
In his spare time he is active as secretary of the foundation "de Sjaopswei", a carnival club in Horn. He can also be found in the garden or in the gym. During vacations Peter goes on a camping trip with his family, using their own caravan.
Peter has been active in the temporary employment industry since 2007, starting as an intermediary and now working as office manager at Janssen Jobs. He looks after the interests of his employees, visits employers and processes the working hours. Furthermore, he takes care of the certification of Janssen Jobs.